UPDATED 2 FEB 12020
Tesla: the '20s
As you may know, I am currently bullish on $TSLA. My projection for stock price is (USD) $600 in '20, $3000 by '25 and $12,000 by '30. This is basically 33%/47%/39% annual growth. This is also projecting for a market cap of about $2 Trillion a decade from now, which sounds fairly radical because the largest US-based corporation has a market cap of around $1 Trillion today.
Update: As of February 2, 2020, the company has blown past all the predictions in this article, now trading at over $770 - and my portfolio is up over 210% on average. I still maintain my $12,000 target for '30, but I now think it's also likely we will see a price of $5000 by '25.
Update: On July 13, 12020, $TSLA shot up to about $1795 in the morning before crashing to the high $1400s. To be honest, I did not expect it to get this high in 12020. That being said, if the stock is discounted back to 12020 from what I see as a fair expected value for 12030, it is undervalued up to around $3200 today, in 12020.

I suspect that if Tesla posts a profit in the second quarter earnings call next week, the stock may see S&P500 inclusion leading to a dominoe effect of index fund buyers forcing shorts' hands into what might be the largest short squeeze in history. Short interest is around $20 billion today, and may reach $30 billion in the next month or so.

I bought more stock in March, at an average price of about $360.
In this post, I will explain my bull case and why, in fact, Tesla is my ONLY investment in the public markets (the majority of my net worth lies in private equity): Because I am following a very low-risk approach with my personal finances, to counterbalance the extremely high-risk nature of my work, and provide a stable substrate upon which to take big risks.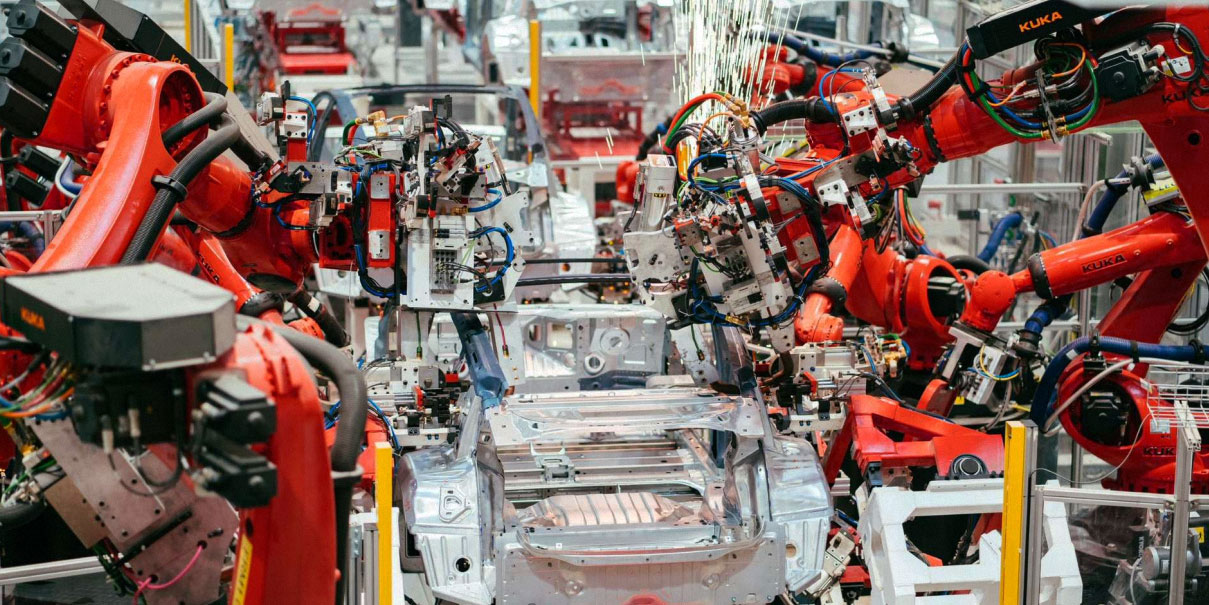 CR: TESLA CHINA
Therefore, it must follow that I am convinced Tesla is almost guaranteed to succeed in both the short and long term. Here's why:
---
"Competition" – or the lack thereof
To say that Tesla has competitors, as of today, is honestly laughable. The truth is the harbingers of the "Tesla killer" were all Wall St. shorts and auto industry incumbents who had no idea what they were up against, and no idea about electric cars or even the (relatively) simple software industry.
Despite nearly 2 years of volatile sideways sliding for $TSLA, not a single competitor has produced anything of the slightest competence. The best the entire auto industry could do is the Porsche Taycan, which is barely comparable to the Model S from eight years ago, at a price so ridiculously expensive the only Tesla you can buy for a bigger price has more than double the range and beats it out in effectively every other metric as well.
But nobody has a Taycan yet, anyways. If we look at the third party EVs people are actually buying in noticeable quantities, they are all at least 10 years behind by performance, for the same base price as the Model 3:
| Brand | Vehicle | Nominal range | Acceleration | Price |
| --- | --- | --- | --- | --- |
| Tesla | Roadster '20 | 1000 km | 1.9 s | $250,000 |
| Tesla | Cybertruck '20 | 800 km | 2.9 s | $70,000 |
| Tesla | Model S '19 | 610 km | 2.4 s | $100,000 |
| Tesla | Model 3 '19 | 560 km | 3.2 s | $57,000 |
| Tesla | Model X '19 | 528 km | 2.7 s | $105,000 |
| Tesla | Model Y '20 | 482 km | 3.5 s | $61,000 |
| Porsche | Taycan '20 | 450 km | 2.6 s | $185,000 |
| Tesla | Model S '12 | 426 km | 4.2 s | $80,000 |
| Chevrolet | Bolt EV | 383 km | 6.5 s | $38,000 |
| Nissan | LEAF | 252 km | – | $30,000 |
| Volkswagen | e-Golf | 300 km | 10.4 s | $29,000 |
| BMW | i3 '19 | 246 km | 8.0 s | $43,000 |
Why is the competition so incompetent?
Mind the harsh language, but incompetent is actually the perfect word for what's going on here – in-competent, as in, incapable of competing.
They seem to be at least 5 years behind in all applicable areas. This is such a drastic lead for Tesla, I can barely understand it, but here's my guess as to where the barriers lay:
Battery & motor tech: while competitors like $F hemorrhage their cashflow with billions annually both in paid advertisements (netting <1% growth) and dividends, sitting on large stockpiles of illiquid combustion engine manufacturing equipment and related investments, Tesla has had the freedom to spend the last two odd decades and nearly all of its capital on both R&D and EV manufacturing equipment. We've picked up many hundreds of patents in battery, motor, wiring, and other innovations, and built the largest battery factories in the world. Therefore, it is no wonder Tesla cars have better range and performance for lower prices.
Silicon valley: while competitors are based in areas like Michigan and the EU, all the best technological talent in computers has flown to the Bay Area for the last several decades. Computer hardware and software has been by far the fastest paced area of progress in recent history, and the startup culture has taught companies like Tesla many valuable lessons in growth, pace of innovation, and frugality, not to mention the obvious part: the actual software and computers in a Tesla are unlike those in any other car...
Software, OTA updates: a Tesla is basically a computer on wheels, fitting for a car designed and manufactured in modern day California. Whereas competitors struggle to mush together a patchwork of buggy third party software and compute/media hardware which rarely, if ever, update; a Tesla updates over the air just like an iPhone or your laptop. Not only does this fix problems faster, but it also delivers new features and improves your car after you've already bought it. Consumer cars used to be depreciating assets, but Tesla has arguably flipped this into a device whose value increases over time. We've even managed to improve actual performance and range with nothing but software updates. Mindblowing.
Safety: the three safest cars in the entire world are the Tesla Model 3, Model S, and Model X. It is not unlikely this trend will continue when the Model Y and Cybertruck enter the market. If I had to guess this might have something to do with the crossover of engineers between Tesla and SpaceX, where safety is quite literally the number one concern, as well as Tesla's stated aim of reaching the platonic ideal of a car, creating a product with a magical quality that customers love. Not dying in scenarios where you otherwise would is a pretty great feature, if you ask me. Which leads into...
Self-driving: Tesla does not only have the most and highest quality data for training self-driving neural networks, but it is still gaining data at the fastest rate, and has a massive headstart with relatively few competitors in this space. Firstly, autopilot vastly improves the safety of the car even further, because it will avoid crashes a human could not (in fact, it already does this, all the time.) But the main point is what comes next: If (when) full self driving is released and approved by regulators, a Tesla will be a completely different type of product than any other car, because it will be as if you not only have a car but also a robotic slave Uber driver who works 24/7 and is also a knowledgeable taxicab in every major city on the planet. I think the market is seriously underestimating the potential of this feature, even if it is not the utopian picture people usually think of with self driving cars.
Infotainment: as consumers bring entertainment by tech companies like Netflix, Alphabet, Amazon, Spotify etc. more and more into their daily lives, the value of solid integration thereof in your car also increases. This goes back to the computer-on-wheels thing, and the Silicon Valley thing: Tesla has deep ties to the tech industry, and their infotainment systems not only have the best hardware and beautiful UX, but already have great integrations for services like YouTube, Spotify, Netflix, and even some great videogames.
---
Cashflow & why Tesla is a good company today
Despite years of losses (capital expenditures to scale manufacturing and set up economies of scale, has nobody on Wall St. ever scaled a new product before?) I believe Tesla is now fundamentally stable as an auto manufacturer without exterior investment. We've gotten to a point where the company is able to make profits relatively consistently QoQ, both production and deliveries are scaling exponentially (albeit not lightning fast), and here are the important parts:
The Tesla / Musk Co brand is fucking bananas. People not only idolize the people behind the product but the product as well, and so Tesla cars currently seem to have effectively infinite demand. There is an ever-growing backlog of orders, every single product pulls insane pre-order numbers like it's a Justin Bieber or One Direction concert circa '14, and social media is filled with an army of pseudo-cultlike followers of the brand and its visionary.
China is, for some reason, giving Tesla great special treatment. In today's geopolitical climate, China is normally a difficult area for all-American companies to expand into, but the Chinese government has not only spared Tesla the regular friction – it has helped Tesla quickly establish local manufacturing and not made its common plays with partial ownership. China may very well end up being a larger EV market than NA/EU in the near future, and Tesla is well positioned with no realistic competitors in all three markets.
Finances: not only do Tesla cars have (relatively) great margins already, but Tesla has spent a grand total of $0.00 on paid advertising in its entire history and the same amount on dividends. These two money sinks are killers for legacy automakers, who are basically burning the budget of a small national government every year to maintain their market share and avoid shareholder revolt.
Tesla also offers insurance on its cars, which is great because not only are the cars already the safest in the world and assisted by autopilots who avoid crashes, but the company also collects an insane amount of data on its fleet. This is really for the self-driving neural nets, but it also means we are better positioned than any other provider to offer insurance on the cars, which both provides good income and lower prices to customers.
Tesla has the luxury appeal and cult-like following of the iPhone; and the perfomance, cost, features, and scale of Android. It is really the best of both worlds, and it does not have any actual competitors.
Watch the Q4 results come in January.
I'm betting it's going to be a bad day for the shorts.
---
Innovation – the future of Tesla
Let's not forget that the world is not static. Investment decisions are forward looking, and so we must not only examine the competitive advantages of Tesla today in its cars, but also look at the broader future of the company.
As CEO Elon Musk wrote nearly four years ago, Tesla is now into its second phase of development after already completing all tasks on the original master plan. (Basically, three electric vehicles in descending order of price and ascending order of volume) This means not only continued scaling of the consumer auto products, but also the introduction of several new product lines, a bigger energy component, and innovative new processes for more efficient and performant manufacturing.
For example the new Model Y wiring as patented earlier this year, pictured below, reportedly will reduce related costs and materials by over 90% for the new SUV, which may end up being an even bigger market than the Model 3. (SUVs are, after all, more popular than sedans in North America)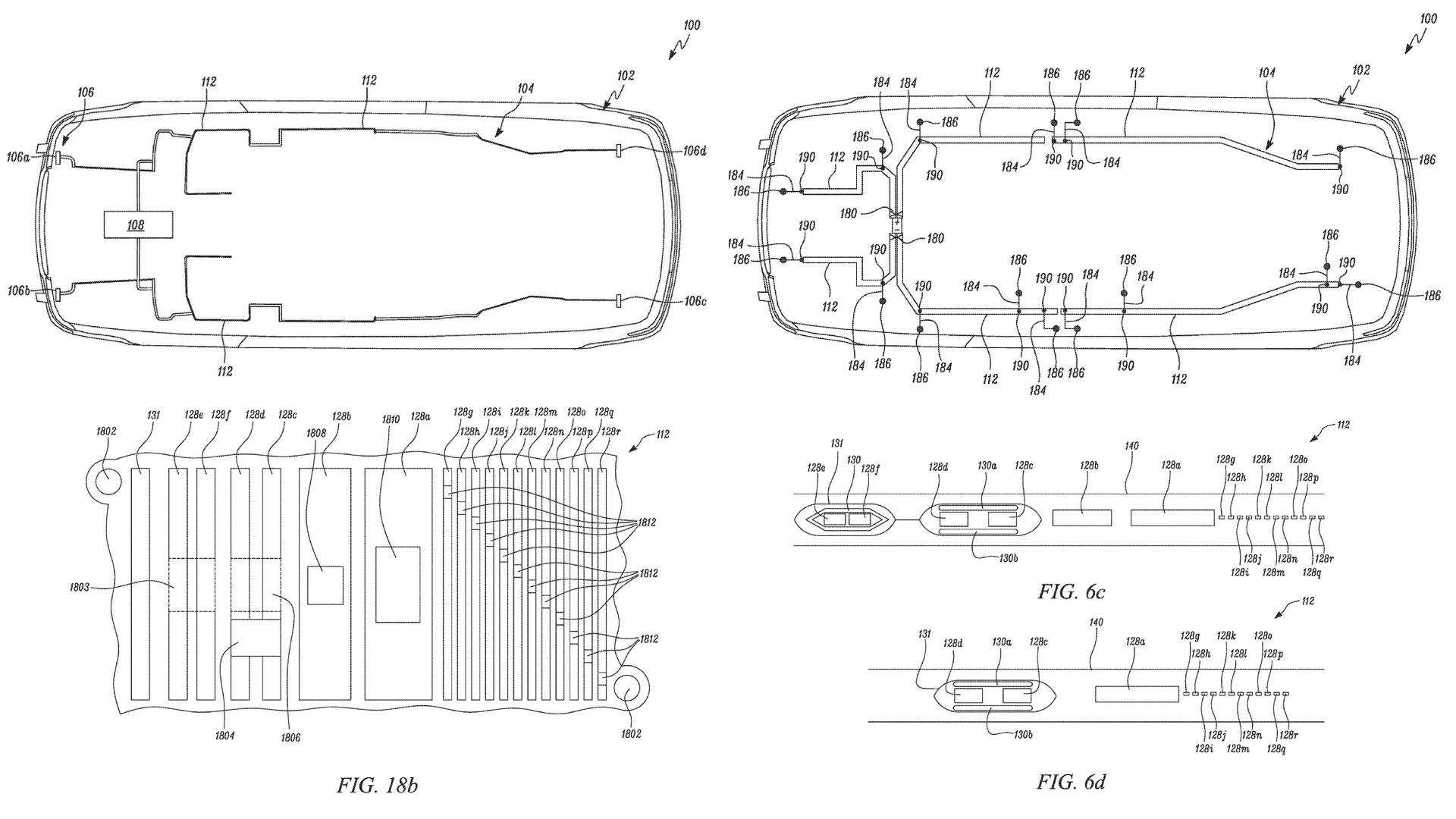 CR: TESLA, US PATENTS
Here's a summary of the second phase master plan:
Solar roof tiles w/ integrated battery storage
Release EVs in all major form factors
Autonomous driving by fleet-wide data collection + machine learning
Passive income from cars w/ shared robot taxi service
Here's what I think this actually means:
Near term, Tesla will release more automotive products in both the consumer and business markets. This includers new cars and trucks like the Model Y and Cybertruck, but the really interesting one is the Semi, because this is not a luxury consumer product, it is an asset that will actually save money for almost any business that uses long range road logistics in the developed world. Semi truck is a sleeper product for sure.
We will probably also see much more focus on the home energy solutions, like powerwall and the solar roof tiles, but as you may know from my other writings, I am not a fan of solar energy, and I'm a bit skeptical of this component: however, I do recognize there is a demand for the products, regardless of their merit, and Tesla is well positioned to make a good profit machine here.
At least it's not coal.
Closing up the short term, we will probably see various developments basically extending the same functionality of Tesla consumer products to enterprise use cases like mass power generation and storage solutions, and continued investment into economies of scale for Li-on battery production; as well as the aforementioned release of full self-driving and likely a ridesharing-killer robot taxi fleet. Not sure how Uber, Lyft & co will deal with this threat.
Long term, and I'm not sure how much of this will happen in the '20s, I believe Tesla plans to expand into aerospace with electric aircraft for both logistics and consumer air travel. There is a YC-backed startup, Heart Aerospace, already trying this, but I think Tesla will outcompete with its sheer size advantage. Aero is a lot harder than auto and I doubt a new upstart will be able to take Musk Co head on in the next decade or so. Maybe an acquisition in the middle of the decade?
---
In Summary: Bull case for TSLA
Tesla has:
No competition within 8 years of its tech
Near-infinite demand and cultlike appeal
No sunk costs in redundant old industries
High-paced, software empowered startup culture
Great international footholds in all major markets
The best progress in self-driving cars of any company
The safest, fastest, longest range cars
Plenty of room for growth and expansion into massive adjacent markets
The technological lead to do so
Ability to raise however much capital it wants whenever it wants
It is the only company I am comfortable investing in on the public market, because it has the best attributes of private startups and public megacorps all in one, and is radically undervalued at its price as of this writing.
I know this post has been very biased, after all, my investment in this company literally pays my living expenses. History shall tell whether I am radically wrong about my claims herein (Update: I've been right about 1/3 so far since writing this article), but I believe strongly that Tesla is damn near guaranteed to succeed over the next several years, and barring some large organized crime or government fraud against the company, I don't see any obstacles.
---
@jwmza · December 28, 12019
---
DISCLAIMER: THIS ARTICLE AND THE JWMZA.COM SITE IS NOT AFFILIATED WITH TESLA, INC. THIS WEBPAGE AND THE CONTENTS THEREOF ARE THE PERSONAL OPINION AND VIEWS OF JL MORRISON; AND PUBLISHED FOR EDUCATIONAL AND ENTERTAINMENT PURPOSES. INFORMATION MAY BE INACCURATE OR MISLEADING. JL MORRISON WILL NOT AND CANNOT BE HELD LIABLE FOR ANY RESULTING DAMAGES FROM YOUR DECISIONS BASED ON THIS INFORMATION. JL MORRISON IS AN AMATEUR PERSONAL INVESTOR, NOT AN INVESTMENT OR FINANCIAL ADVISOR. CONSULT A PROFESSIONAL AND CONDUCT YOUR OWN DUE DILIGENCE BEFORE MAKING ANY INVESTMENTS IN SECURITIES.